Solar energy only clear option for Sri Lanka independent of fossil fuels
By

Jagdish Hathiramani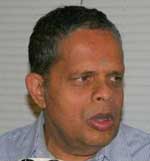 The first impression of anyone discussing the future of Sri Lanka's energy landscape with retired Additional General Manager of the Ceylon Electricity Board (CEB), Kanagalingam Gnanalingam, must undoubtedly be… he is steadfast in his convictions that the large-scale adoption of solar energy is the only way to achieve a Sri Lanka free from its dependence on fossil fuels.
Currently, an independent consultant volunteering for organisations focused on renewable energy issues, particularly in the area of solar energy utilisation programmes, Mr. Gnanalingam first started researching solar energy in 1970 while at the University of Ceylon, Peradeniya. He continues his passion for all things solar to this day, sometimes spending as much as 15 hours a day on his research since retiring from CEB (aged 55 years) and migrating to Canada in 2001.
Considering his fascination with solar energy, it should come as no surprise that Mr. Gnanalingam's greatest influence was Sri Lankan solar energy pioneer, and his former teacher, Prof. J.C.V. Chinnappa, then Professor of Mechanical Engineering at the University of Ceylon, Peradeniya, who now serves as an Advisor on Solar Energy to the Australian Government. While a part of Prof. Chinnappa's team, Mr. Gnanalingam and others were credited with designing the first solar refrigerator working solely on solar energy as well as designing, constructing and testing a pressurised solar water heater in 1971.
Rural Homes
Continuing his calling in the solar field, Mr. Gnanalingam later worked at CEB as an engineer in the Energy Unit in 1984 where, together with other engineers, he was responsible for the introduction of solar in rural homes and schools, at that time sold at subsidised prices by CEB. Since these programmes proved to be successful, CEB left it to the private sector to take over and, at its highest point, there were more than 14 companies involved in this industry, supported by micro credit facilities lent by banks as initial costs were very high. He goes on to note that although his team's work was ultimately the cause of the first energy centre to be constructed by CEB with World Bank aid, a centre which used Solar Wind and Biogas Energy to feed a village in Tangalle, the project was abandoned when the electricity grid was extended to encompass this village. However, many solar home systems were later taken over as commercial ventures by private companies assisted by micro credit lending by DFCC.
Responding to views that solar energy may prove feasible for large scale power generation in Sri Lanka, Mr. Gnanalingam suggests that not only is solar energy useful for the rural poor with no access to the electricity grid, but it also has the potential for a much wider impact for the nation: "With the introduction of Net Metering and Tax relief by [the government] this year for renewable energy, we believe that now, with lower cost of Thin Film Solar Cells, it is viable to install solar panels in grid connected homes.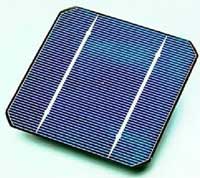 The energy generated during the sunshine hours of the day can be used or pumped back into the grid and the house metre will run in the opposite direction and reduce your monthly bill. Without a costly storage battery system this will produce reduction in the monthly bill with payback period of 2 to 3 years depending on where your house is and the present monthly consumption."
Not only is it feasible but, according to Mr. Gnanalingam, solar energy may prove to be the best choice for Sri Lanka's future, especially should the country wish to meet the high target set for itself to increase non-conventional, renewable energy to 10% in 2017 from a current level of 4%: "Very soon many developing countries like India and China are going for 20% of total energy used to be derived from Solar energy. Germany, even though it has only about half of the sunshine we have in Sri Lanka, has the maximum percentage of use in the world of solar energy in its system for generation of electricity." He adds that although natural gas 'has its place', it is currently very costly since it has to be totally imported like oil.
Wind Options
The wind environment in Sri Lanka, says Mr. Gnanalingam, is not ideal so, unless wind power plants are set up off-shore, making it very costly, there are no good wind options. However, he does endorse private sector moves to currently erect larger wind power plants in the Puttalam area, while further suggesting that there are good wind areas, such as in Mannar and in Jaffna, which may prove useful once peace is achieved. He also indicates that while Hambantota was previously determined to be an unsuitable location – "due to the presence of airfields and bird sanctuaries, the best sites in Hambantota were not available for the CEB's [proposed] 3 Mega Watt Wind Power plant" as well as breakdowns caused by pollution from the sea air, etc. - the expected Hambantota harbour may improve this situation.
Therefore, suggests Mr. Gnanalingam, the only feasible choices left to Sri Lanka are wave energy, an area to be further explored since the country is on an island with large seashore; and solar energy. He further indicates that solar energy is bound to achieve greater efficiencies while becoming more cost effective. Recent innovations include Nano technology based printable cells featuring a 12% conversion solar energy rate and less expensive, while concentration solar cells, currently used in space vehicles, will be available next year and have a higher conversion efficiency (approximately 40%) when compared to today's crystalline silicone Solar cells which have maximum of 20% conversion efficiency.
Meanwhile, when asked whether there were any lessons learned from his adopted home, Canada, which could positively impact Sri Lanka, Mr. Gnanalingam has this to say: "Canada is introducing feed-in tariffs for Solar energy home systems similar to Germany, U.K. and Japan. They buy power from solar home systems owners at a higher price to promote this green Solar energy. This distributed electricity generation helps to reduce the transmission and distribution losses in the electrical system. These losses are high in the Sri Lankan grid which was as high as 16% last year. The extra cost incurred is recovered by a very small extra charge from all electrical consumers. We could achieve large reduction on this large loss by going for feed-in tariffs in Sri Lanka. Costly private power generation can be reduced and the fuel import bill for the country can be reduced with savings of valuable foreign exchange for the country".
Finally, Mr. Gnanalingam identifies some important facts which should be included in the debate regarding whether renewable energy should play a larger role in the country's future energy strategy: Currently, over 15,000 homes have obtained solar home systems, while small village micro hydropower schemes managed through electricity consumer societies have provided electricity to a further about 20,000 homes.
Costly Rates
Further, Sri Lanka has one of the costliest electricity rates in Asia as it was forced to go for costly oil generation from still more costly private power generation sources. Meanwhile, coal generation is not going to be cheaper as promised by the government as they will definitely tax the now costly coal like petrol.
Also, it is estimated that a single kerosene lamp emits 1 tonne of carbon dioxide over a lifetime of 5 years as well as producing soot and other health hazards and being very unsafe as it has resulted in many accidents and deaths.
So every year kerosene lamps are responsible for over 100 million tonnes of carbon dioxide emissions into the atmosphere.
Please visit http://twitter.com/Gnanal